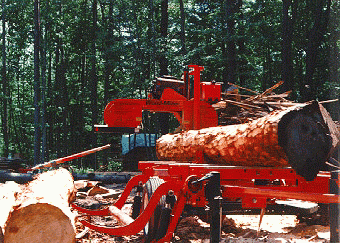 We also have a huge (42MB) MPEG movie of the Woodmizer in action that you might like to see. There is also a shorter quicktime version (6MB). One thing you might notice in the movie is that Jim is not wearing safety glasses or ear protection (but he is sporting a dashing teal headband and a sporty looking fluorescent orange scarf).
---
Back to the House Site page.
Back to the House Plans page.
---
Westy's Home Page westy@cs.umass.edu Last Update: 7/30/96